Saturday, April 5, 2014
Undisputed Truth: My Autobiography by Mike Tyson
– review


Mike Tyson's account of his gargantuan struggles inside and outside the ring makes thrilling reading

Geoff Dyer
The Observer
, Sunday 15 December 2013
Mike Tyson, November 2013: 'I hated my face and I literally wanted to deface myself.'
Photograph: Action Press/Rex
Nothing in his subsequent exchanges with Paul Holdengräber could quite live up to the moment when Mike Tyson took to the stage last month at Madison Square Garden – sorry, I mean the New York Public Library.
His mentor, Cus D'Amato, had assured the 15-year-old Tyson that one day, when he entered a room, "people will stand up and give you an ovation". That's how it was here. A collective gasp and we were on our feet – not as an expression of admiration, more a recoil from sheer physical and psychic proximity. This would never happen with the writers and intellectuals who usually grace this august stage. They are interesting, admired or even loved on the basis of stuff they have created, that is external to them. But everything that had made Tyson famous and infamous – the fact of his body and its capacity for violence – was there in the room.

Undisputed Truth: My Autobiography
by Mike Tyson
Among the living only Diego Maradona (whom I also saw once, in an equally improbable setting, as he emerged from the Oxford Union) has risen to comparable heights from such depths – and then plummeted back down again. Paul Gascoigne was an amazing footballer and Ben Johnson ran extremely fast but Maradona's and Tyson's life stories place them in a different realm. In Naples there are still shrines to Diego. When Tyson, at the library, said that he had been a god this seemed a self-definition that even Richard Dawkins might allow.
Tyson has ended up like thousands of other literary contenders: on the promo circuit with product to hustle.
Undisputed Truth is the latest and biggest bounce in a bills-to-pay comeback that began with James Toback's intimate documentary, Tyson, and continued with an acting role in The Hangover. Tyson played himself, naturally, a role he reprised for a one-man Broadway show that was then filmed by Spike Lee. The autobiography grew directly out of that show and even if it is not, as Holdengräber claimed, up there with St Augustine's Confessions, it's got a lot more fighting.
That it's also addictive is down in part to Tyson's co-author, Larry Sloman. Tyson claims he "inherited Cus's ability to tell stories" but as he regaled the audience with lispy anecdotes – growing up in Brooklyn, breaking into houses and being on the roof with his pigeons – it rapidly became as interesting as hearing a celebrity recount a dream....

Having encouraged Tyson to ramble through his past, Sloman shaped the mass of material into a narrative that opens with the most vehemently disputed part of the story: the conviction for raping Desiree Washington in 1991.
The conviction might have been shaky but so is the defence that it's impossible to "rape someone when they come to your hotel at two in the morning. There's nothing open that late but legs." Bear in mind also that any charm Tyson possessed was inseparable from the "bad intentions" manifest in the ring: "My social skills consisted of putting a guy in a coma." But remember, also, that his capacity for brute intimidation did nothing to staunch the flow of women eager to have sex with him, not just after the conviction but while he was in prison.
Out of jail after three years, he became an easy mark for claims of assault and sexual harassment even when he was trying to keep some of these women at bay – not because, as a convert to the Nation of Islam, he was newly abstemious, but because they were skanky hos.
It got to the point where he "was hardly seen out in public. One reason for that was that I spent a lot of time indoors at strip clubs." More time, certainly, then he spent at his mansion in Connecticut with its 5,000 sq ft master bedroom and the 19 other bedrooms he aimed to fill with different girls at the same time. He had a palace in Vegas, too, but
his true home was what Conrad called "the destructive element".
Throw in an annual income that was often in excess of $50m (enough to ensure that, like the former champions he idolised, he'd wind up flat broke), a titanic coke habit (he'd wander round with his stash in a big bag, "a straw coming out of it like it was a milkshake") and you have
a young man in the unusual position of being both gladiator and emperor, "a sewage rat with delusions of grandeur", a ghetto kid with zero self-esteem and an ego borne of the knowledge that, in a fair fight, he could beat everyone on the planet to a pulp.
Unconvinced that he had been fairly beaten, one of those opponents, Mitch Green, high on angel dust, starts taunting Tyson who beats him up again in the street. Bloodied – "I had crushed his eye socket, broken his nose, cracked some ribs" – but unbowed, Mitch comes back for another helping a few pages later when Mike is "on a date with some exotic hot Afrocentric chick named Egypt or Somalia or some other country like that". She stops him carving Mitch up with a steak knife ("I wasn't a vegan then") but being with Tyson or working for him could turn bad almost as quickly as fighting against him. One feels zero sympathy for Don King ("a wretched, slimy reptilian motherfucker") or Frank Warren, both of whom get richly stomped...
As will be clear by now, Sloman brings Tyson's voice springing off the page with its often hilarious combo of street and shrink, pimp profanity and the "prisony pseudo-intellectual modern mack rap" of the autodidact. Training for the Lewis fight in Hawaii – "epicentre of some of the baddest weed in the world" – was not a great idea, boxing-wise, but just as all that "Maui Wowie made for some interesting press conferences" so his "stupid un-fucking-legible English" makes for some surprising prose.
There's a moment of flat-out brilliance when he gets the Maori tattoo on his face: "I hated my face and I literally wanted to deface myself."
The later journey to sobriety sees him leaning harder on cliche – he's particularly fond of the idea that relapse is part of recovery – but the sense of threat, to himself and others, is constant. Which makes you wonder if one of the regrettable things about the years of substance abuse involved a drug he didn't take. A dealer (called Chance, appropriately enough) is ordered to get Tyson a Scarface quantity of coke even though "all he did was sissy drugs like ecstasy"....
The commonly understood narrative – one with an undeniable chronological truth – is that Tyson only began to go off the rails after the death of goodly Cus D'Amato. Cus had taken this kid from the ghetto under his wing and trained him to be a champion, dying before the ambition was realised. After that, Mike had no one to guide him. ...
...
Tyson was a great fighter who never fought any great fights.
Either because he beat his opponents too easily – he was too good – or, with the possible exception of the first, toothless encounter with Evander Holyfield, because he was beaten too easily (as a result of failing to prepare properly, of losing his earlier hunger).
He never went toe-to-toe with greatness, as Ali and Frazier did repeatedly, was never fully tested while fully committed to passing that test.
As Cus intended, many of Tyson's opponents were out on their feet before a punch was thrown.
The fights rarely lasted long and, in keeping with this, the era of Tyson's indomitability – brought to an end when journeyman Buster Douglas floored him in Tokyo in 1990 – flashes quickly past in the book.


After that, victories and defeats in the ring become almost irrelevant in the chaos and swirling mania that surround and consume him. He burns his way through an unbelievable fortune and never, not once in almost 600 pages, expresses any regret on that score.
Apparently Sloman's opening move in tempting Tyson into this collaboration was to send a copy of Nietzsche's Ecce Homo to him while he was in prison.
Nietzsche's notion of greatness was the capacity to embrace your fate wholesale: if you enjoy one divine moment then you say yes to all others, however hellish.
Tyson, with his jailed grasp of momentary immortality, got this right away, probably knew it already: "Just to have one year of living Mike Tyson, the champ's life..."
Source:
http://www.theguardian.com/books/2013/dec/16/undisputed-truth-mike-tyson-autobiography-review
Floyd Mayweather: an all-time great or an arrogant fraud who ducks fights?
Don't believe everything you hear about Floyd Mayweather in the buildup to his fight against Marcos Maidana. He's not the best boxer ever, but he remains a wonderful technician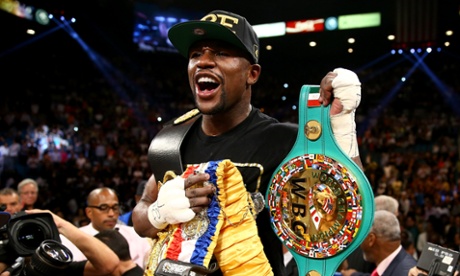 To some he's the greatest of all time, a masterful boxer better than any to come before him who has never ducked or avoided anyone. To others he is a sham, a fraud, a boxer who cherry picks opponents, ducks anyone who may be a danger to him and who wins matches by running from his opposition.
1) Mayweather is not the greatest of all time
Mayweather has clearly had an extremely successful career: currently 45-0 with notable wins over Genaro Hernández, Diego Corrales, José Luis Castillo (twice), Zab Judah, Oscar De La Hoya, Ricky Hatton, Juan Manuel Márquez, Shane Mosley and Miguel Cotto.
To go with the obvious example, Sugar Ray Robinson is generally regarded as the best of all time and a look at his record shows why. He has wins over Jake LaMotta (five wins, one loss), Sammy Angott (three wins), Fritzie Zivic (two wins), Henry Armstrong, Kid Gavilán (two wins), Rocky Graziano, Turpin (one win, one loss), Gene Fullmer (one win, two losses, one draw), Carmen Basilio (one win, one loss), Tommy Bell (two wins) and Marty Servo (two wins).
Put simply, Mayweather can't compete.
... Mayweather might be able to slip into the very bottom of the top 10 all time for his current results. But that would be exceedingly generous. More realistic is probably somewhere between top 15 and top 30 depending on the mood that takes you on a given day. Still highly impressive, but not the greatest.
2) That doesn't mean he couldn't beat many of the greats
As is the way with hypothetical match-ups, there's no way to know what the actual result would have been. But I think if anyone writes Mayweather off, they're allowing their personal dislike of him cloud their judgement.
3) Mayweather hasn't 'ducked' as many boxers as people suggest
"Ducking" is when a fighter turns down a bout for no other reason than their fear of losing. There were no notable opponents lined up, no big-money bouts to take instead. "
Put simply, most of the suggestions for boxers Mayweather "ducked" don't hold up to scrutiny.
4) … but he has ducked some
Somewhat surprisingly, the two fighters who can claim Mayweather ducked them and have those claims stand up to scrutiny often don't get mentioned when people discuss who Mayweather supposedly ducked.
In 2005, Mayweather called out Winky Wright, the lineal and formerly undisputed 154lbs title holder who had just beaten Felix Trinidad at 160lbs and could point to two wins over Mosely. Wright agreed and within days had his team in the Top Rank (Floyd's promoters at the time) offices hammering out the details.
The details were hammered out: the bout would be at 154lbs but weigh-ins would be the morning of the bout rather than the day before and Wright would not be allowed to gain more than eight pounds between weighing in and the start of the contest. But Mayweather and Bob Arum suddenly pulled out, demanding changes to the purse-split and other such things until the bout was dead in the water.
Mayweather was brave to challenge the naturally larger Wright, a man basically in his prime and with a style that would have been awkward for Mayweather. But when you call someone out and agree all of the details, why then suddenly pull out and take on Sharmba Mitchell instead? That's ducking. Whether it was Arum or Mayweather who pulled the plug (Wright's promoter Shaw has blamed both Arum and Mayweather, depending on who was asking) it doesn't matter; it was a duck.
In 2007-08, Cotto was the next best welterweight in the world behind Mayweather. A thrilling fighter during his 140lbs title run, he had moved up in weight and easily disposed of Quintana, smashed the over-matched Urkal, stopped Judah and then beaten a resurgent Mosley in an excellent bout. He was by any definition the most deserving fighter to face Mayweather and, with the rabid Puerto Rican fans behind him, he was a legitimate superstar who brought serious financial clout as well. There was no reason for the bout not to be made.
5) Appreciate the boxer if not the man
You certainly don't have to respect Mayweather the man.
His record may never been deep enough for him to become the greatest ever or even a top-10 all-time great, but in terms of sheer talent and skill, he's right up there.
Accept that you are watching pretty much the best that boxing can offer from a technical standpoint and appreciate that.
Mayweather's upcoming bout with Maidana may not be the most scintillating. It may not be the most competitive. It may not feature him beating an all-time great or cementing his place in boxing history....
Convicted
drug trafficker Wuttipong Korsanthiet fights an Irish adversary in Klom Prem prison on October 4, 2013.
A Katoey ("lady boy') seves as a card
girl
.



How Thailand's Most Notorious Prison Became a Fight Club
By
Matthew Shaer
Apr 2014
Killers, armed robbers, and drug dealers in Thailand's notorious Klong Prem prison have one shot at honor, money, and maybe even freedom –
fighting Western pros in jail-yard matches.
The October afternoon before he is to fight the American, Thub Hong-Mo sits cross-legged on the floor of his Bangkok prison cell, watching soap operas on an old Chinese TV set. It is a rare moment of respite for the 30-year-old, who has spent the past two months – seven days a week, six hours a day – working out relentlessly in the prison boxing gym. His lanky frame is nothing but raw muscle and sinew; his shins are knotted with scar tissue. Across his chest is a vibrant tapestry of tattoos: shimmering fish scales, a pair of demons, and a leering dragon.
The dragon, he explains through a translator, is a recent addition, commemorating what he calls his "long journey" in one of the most notorious prisons in Thailand.


Four years ago, Hong-Mo was found guilty of stabbing a man to death in a Bangkok nightclub.
He is now serving 35 years at Klong Prem prison. Most inmates here are career criminals, with sentences of at least a decade – rapists, gangsters, murderers. It's where you go, as one lifer puts it, "when they've decided that they never want to see you again."

Hong-Mo had no reason to think he'd leave this place until he was well into middle age. Then last July, prison authorities approached him with a proposal: Fight against a Western professional in a martial-arts match, to be held in the yard at Klong Prem, and they promised to put 5,000 baht, or $150, in his commissary account. If he acquits himself admirably, they suggested, they may even cut a few years off his sentence.

The discipline: Muay Thai, a balletic but bloody commercial sport that blends the basics of boxing – jab, cross, uppercut – with kicks, knees, elbows, and clinches.
The event is being organized and recorded by a brash young Estonian promoter with a Barnum-ish flair for spectacle, who hopes to cash in on the growing international market for fight DVDs. Billed
as the Battle for Freedom, it is to consist of seven matches, each pitting a Klong Prem inmate against a Westerner.
(That the competitors will come from Europe and the U.S. – where Ultimate Fighting Championship [UFC] pros like Anderson Silva have popularized the sport and most major cities have muay Thai gyms – will only add to the spectacle.) Although the crowd will consist solely of fellow inmates, the promoter hopes to eventually reach a much larger audience through DVD sales.
Like many inmates, Hong-Mo grew up practicing muay Thai; for a time, he even fought semiprofessionally. He eagerly agreed to participate, as did one of his cell mates, a drug trafficker named Wuttipong Korsanthiet, 27, who goes by the nickname Moo, or "pig."
"In prison you can lose something of yourself if you're not careful," Hong-Mo says. "For me, the fight is about proving to myself that I'm still a person. That I still have pride."
Hong-Mo is preparing to face
Mark Sayer
, a 32-year-old brawler from the suburbs of Houston who'll be fighting for the first time in Thailand – the epicenter of Muay Thai. Moo is matched against Stephen Meleady, an unranked Dubliner with a professional record of 43 wins and 31 losses.
"Tomorrow I will win," Moo says. "It's in my blood." As if to prove it, he drops into his fighting stance, executes a flurry of rabbit punches, and then spins his body and knocks an elbow into his imaginary opponent's face.
Still seated on the cell floor, Hong-Mo shakes his head. "I will let the victory speak for me," he says. From the outside, the whole thing seems a bit outlandish. But
the Thai penal system has a long history of organizing sporting events, from soccer and basketball tournaments to weightlifting competitions, and – in a process that is as seemingly arbitrary as it is opaque – of occasionally dishing out sentence reductions to the athletes viewed as bringing honor to their country.
In the 1980s, when Thai authorities, as part of an effort to modernize the penal system, introduced a program called Sports Behind Bars, Muay Thai – "Thai boxing" – was one of the first activities offered. Since then, a handful of prisoners have managed to parlay their skill into an early release.
In 2007, the imprisoned drug dealer Siriporn Taweesuk beat a Japanese boxer for the World Boxing Council light-flyweight title in a match held at Klong Prem. Not long afterward, she was released, having achieved, in the words of one Thai official, "glory for Thailand." And that same year, Amnat Ruenroeng, a muay Thai veteran and convicted robber serving 15 years at Bangkok's Thonburi prison, was pardoned after winning a national title in boxing. Ruenroeng later went on to compete for Thailand's boxing squad in the Beijing Olympics.
In 2012, Kirill Sokur, a 35-year-old Estonian émigré and fight promoter, helped devise a new breed of behind-bars event: one that would match up, for the first time, Thai inmates and Western pros.
He called his event Prison Fight and came up with the suitably catchy Battle for Freedom slogan.
Sokur offered prison officials a deal: He'd provide the ring and the Western fighters and drum up attention from local newspapers and TV stations. The matches would be dubbed "charity events"
– a nod to the fact that rehabilitated prisoners could earn their freedom through battle –
which would make the prison brass look good.
In return, Sokur would film the fights with an eye toward eventually selling DVDs or perhaps producing some kind of reality show.
Working with funding from an undisclosed source, Sokur has poured thousands of dollars into his venture in the hopes of finding a ready audience: Buoyed by the UFC's worldwide success, the international market for fight videos has soared in recent years to become an annual multimillion-dollar industry.


Muay Thai is known as the "science of eight limbs," a reference to the legal contact points: feet, knees, elbows, fists.
As in traditional boxing, the action takes place in a square canvas ring, bounded by extra-strong rope, which the wiliest fighters learn to use to their advantage, drawing their opponents back into it as if it were a spiderweb or bouncing off it to launch a counterattack.
Eye-gouging, head-butting, and crotch shots aren't allowed. Just about everything else is.

Prisoner
The judge didn't buy his argument, and a few weeks after the stabbing, Hong-Mo reported to Klong Prem. He spent his first few months adapting to the indignities of prison life.
He shares a 5-by-10-foot cell with four other inmates. There are no beds. They sleep on the floor, on blue foam mats. Space is so tight that Hong-Mo can feel their breath on his neck as he lies awake at night, listening to the cockroaches cascade down the walls in platoons. Every morning at 6 am, the cell door swings open; every afternoon at five it rolls shut.
The Prison Fight offer came as a relief. "It gave me something to look forward to, to put my mind on," Hong-Mo says.
Under the tutelage of Nikon Jangthinpha, a retired gangster imprisoned for triple homicide, Hong-Mo spent six hours a day in the prison's makeshift gym, which is fitted out with an old canvas ring and two leather heavy bags. In the mornings, he jumped rope, jogged, and shadowboxed; in the afternoons, he hit the bags and sparred with other inmates.
Mark Sayer has a plan, and it is to not get reckless or overeager. When Hong-Mo enters the ring, his eyes remain fixed on Sayer. He looks hungry. He looks possessed.
The referee darts between the fighters, disentangling them, and the match is over. To Sayer's surprise, the decision is unanimous: All three judges score the fight in favor of Hong-Mo.
Despite the loss, which he chalks up to "home field advantage," Sayer is gleeful. He believes that he gave out more punches than he took, and in his heart, that's enough to make him a winner.
Hong-Mo stands next to the referee, his nose swollen to the shape and hue of a cherry; a sheen of blood coats his teeth. He sways uneasily.
A prison guard arrives to march Hong-Mo back to his cellblock. A jubilant knot of fellow inmates awaits him there – he is the closest thing the prison has to a genuine celebrity.


Read more
Link:
http://www.mensjournal.com/magazine/how-thailands-most-notorious-prison-became-a-fight-club-20140328