Floyd Mayweather: an all-time great or an arrogant fraud who ducks fights?
Don't believe everything you hear about Floyd Mayweather in the buildup to his fight against Marcos Maidana. He's not the best boxer ever, but he remains a wonderful technician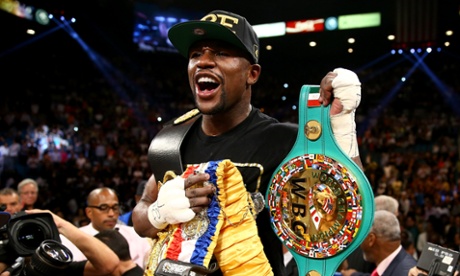 To some he's the greatest of all time, a masterful boxer better than any to come before him who has never ducked or avoided anyone. To others he is a sham, a fraud, a boxer who cherry picks opponents, ducks anyone who may be a danger to him and who wins matches by running from his opposition.
1) Mayweather is not the greatest of all time
Mayweather has clearly had an extremely successful career: currently 45-0 with notable wins over Genaro Hernández, Diego Corrales, José Luis Castillo (twice), Zab Judah, Oscar De La Hoya, Ricky Hatton, Juan Manuel Márquez, Shane Mosley and Miguel Cotto.
To go with the obvious example, Sugar Ray Robinson is generally regarded as the best of all time and a look at his record shows why. He has wins over Jake LaMotta (five wins, one loss), Sammy Angott (three wins), Fritzie Zivic (two wins), Henry Armstrong, Kid Gavilán (two wins), Rocky Graziano, Turpin (one win, one loss), Gene Fullmer (one win, two losses, one draw), Carmen Basilio (one win, one loss), Tommy Bell (two wins) and Marty Servo (two wins).
Put simply, Mayweather can't compete.
... Mayweather might be able to slip into the very bottom of the top 10 all time for his current results. But that would be exceedingly generous. More realistic is probably somewhere between top 15 and top 30 depending on the mood that takes you on a given day. Still highly impressive, but not the greatest.
2) That doesn't mean he couldn't beat many of the greats
As is the way with hypothetical match-ups, there's no way to know what the actual result would have been. But I think if anyone writes Mayweather off, they're allowing their personal dislike of him cloud their judgement.
3) Mayweather hasn't 'ducked' as many boxers as people suggest
"Ducking" is when a fighter turns down a bout for no other reason than their fear of losing. There were no notable opponents lined up, no big-money bouts to take instead. "
Put simply, most of the suggestions for boxers Mayweather "ducked" don't hold up to scrutiny.
4) … but he has ducked some
Somewhat surprisingly, the two fighters who can claim Mayweather ducked them and have those claims stand up to scrutiny often don't get mentioned when people discuss who Mayweather supposedly ducked.
In 2005, Mayweather called out Winky Wright, the lineal and formerly undisputed 154lbs title holder who had just beaten Felix Trinidad at 160lbs and could point to two wins over Mosely. Wright agreed and within days had his team in the Top Rank (Floyd's promoters at the time) offices hammering out the details.
The details were hammered out: the bout would be at 154lbs but weigh-ins would be the morning of the bout rather than the day before and Wright would not be allowed to gain more than eight pounds between weighing in and the start of the contest. But Mayweather and Bob Arum suddenly pulled out, demanding changes to the purse-split and other such things until the bout was dead in the water.
Mayweather was brave to challenge the naturally larger Wright, a man basically in his prime and with a style that would have been awkward for Mayweather. But when you call someone out and agree all of the details, why then suddenly pull out and take on Sharmba Mitchell instead? That's ducking. Whether it was Arum or Mayweather who pulled the plug (Wright's promoter Shaw has blamed both Arum and Mayweather, depending on who was asking) it doesn't matter; it was a duck.
In 2007-08, Cotto was the next best welterweight in the world behind Mayweather. A thrilling fighter during his 140lbs title run, he had moved up in weight and easily disposed of Quintana, smashed the over-matched Urkal, stopped Judah and then beaten a resurgent Mosley in an excellent bout. He was by any definition the most deserving fighter to face Mayweather and, with the rabid Puerto Rican fans behind him, he was a legitimate superstar who brought serious financial clout as well. There was no reason for the bout not to be made.
5) Appreciate the boxer if not the man
You certainly don't have to respect Mayweather the man.
His record may never been deep enough for him to become the greatest ever or even a top-10 all-time great, but in terms of sheer talent and skill, he's right up there.
Accept that you are watching pretty much the best that boxing can offer from a technical standpoint and appreciate that.
Mayweather's upcoming bout with Maidana may not be the most scintillating. It may not be the most competitive. It may not feature him beating an all-time great or cementing his place in boxing history....