My favorite all time great: Golo​vkin stops Rubio in second for 18th KO in a row including 12 title fightsThe many press pictures of the fight show many angles of the same punches which would be a great learning tool for young fighters.... .
Golovkin stops Rubio in second for 18th KO in a row
Golovkin (31-0, 28 KOs) punctuated his brief West Coast debut with a crushing left hand to the forehead of Rubio (59-7-1).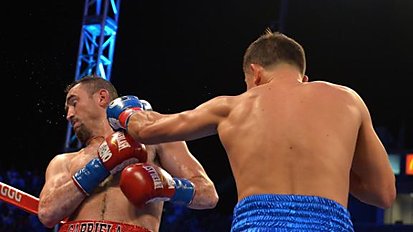 Golovkin won Rubio's WBC interim belt, which means the winner of WBC champion Miguel Cotto's upcoming bout with Canelo Alvarez must either fight Golovkin or vacate the title.
Golovkin has trouble attracting the world's biggest 160-pound names, so he hopes to clean out the division by winning every belt. ...promoter Tom Loeffler said.
Rubio missed weight for the fight on Friday by nearly 2 pounds, costing him the chance to fight for both titles. He entered the ring weighing 181 pounds, but Golovkin floored him with the same relentless style that has been too much for every middleweight opponent to date.
Golovkin has trained in Southern California with Abel Sanchez for the past four years, and the Germany-based fighter is contemplating a full-time move to Los Angeles.
Golovkin signed with the Klitschko brothers' promotional company in early 2012, and the 32-year-old has been making up for those lost years with a busy schedule and a relentless series of knockouts.
Golovkin made his U.S. debut just over two years ago, gathering savvy fans and HBO's promotional might with each spectacular stoppage.
CARSON, Calif. (AP) — Gennady Golovkin stopped Marco Antonio Rubio in the second round Saturday night, defending his WBA middleweight title with his 18th consecutive KO victory.
Link:
http://www.usatoday.com/sports/boxing/
Golovkin stops Rubio in second for 18th KO in a row