The Photo Blog
Oct. 3 2013 11:04 AM
By
David Rosenberg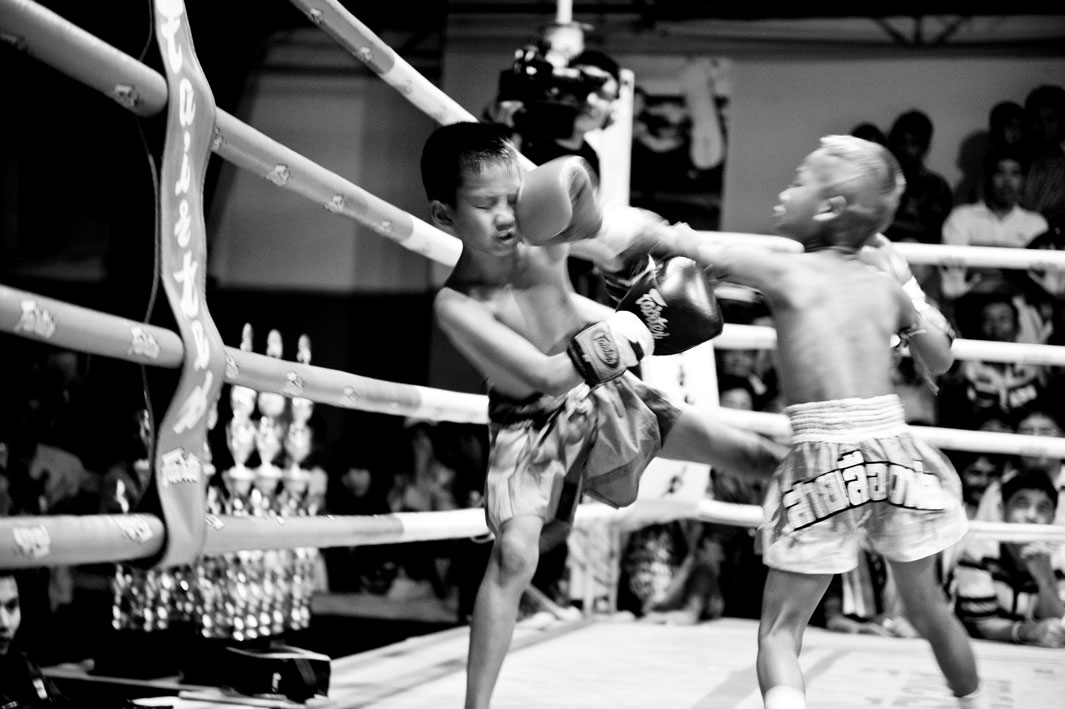 Bank hits Tountong with his fst in the face. Both boys are 7 years old. A minimum age for the fighters does not exist.
Sandra Hoyn/laif
Photographer
Sandra Hoyn
was on vacation in Thailand in 2011 when she happened upon a
Muay Thai
competition near Bangkok. Known as "the art of eight limbs" where almost everything on the body is used including elbows, knees, and fists, Muay Thai is a full-contact sport and one that is considered extremely difficult. Professional fighters often deal with broken bones and concussions.
What shocked Hoyn the most wasn't the sport as much as the competitors: Children as young as 6 years old were in the ring. She immediately contacted the coaches and children to photograph the fights for a series she titled "
Die Kampfkinder
," or "Fighting Kids."
Although at first Hoyn found it difficult to work on the project because of language barriers, she eventually was able to spend four weeks accompanying the children at home, during training sessions, and during competitions.
Bank has lost the boxing match against Tountong and is lying unconscious on the ground. For many poor people, Muay Thai boxing secures their livelihood. For a pittance, they reach their mental and physical limits two or three times a month with boxing matches.
Sandra Hoyn/laif
Fanta, 6 years old, after winning a boxing match.
Sandra Hoyn/laif
A boxing match between two boys.
Sandra Hoyn/laif
Hoyn studied photography at the University of Applied Sciences in Hamburg, Germany, and began developing her craft roughly 10 years ago while traveling. She said she tries to get close to the local culture and has created many series around Southeast Asia, including one about
human trafficking
and another about a young punk living in Burma.
"I feel the urgency to show what is happening in the world, in which circumstances people are living," she wrote via email. "Sometimes it is difficult to keep the journalistic difference. With many protagonists of my stories, I develop a friendship, so on one side it is good for the story, while on the other hand it's hard to stay neutral and remind myself I'm not just a friend, I'm also a photojournalist."
A Muay Thai fighter in the boxing ring during the break.
Sandra Hoyn/laif
The coach shouts at a boy during the break of the fight.
Sandra Hoyn/laif
Although Hoyn said many people were shocked by her images of children fighting, she said in Thailand it isn't really unusual, and it is common to see young children training, often as a way to escape poverty.
Although her photographs make it seem like a very rough sport for the children, Hoyn wrote that she didn't see many of them seriously hurt since they aren't as powerful as adults. "Few of these children boxers will be rewarded with fame, glory, or money," Hoyn wrote, noting that although money bets are illegal in Thailand, they don't seem to be enforced.
"The most shocking thing for me was to see the pressure on these children. They are the instrument for the parents to earn money, and they have to win the fight because the parents bet a lot of money on them. A lot of people lose all their money in one night," she said.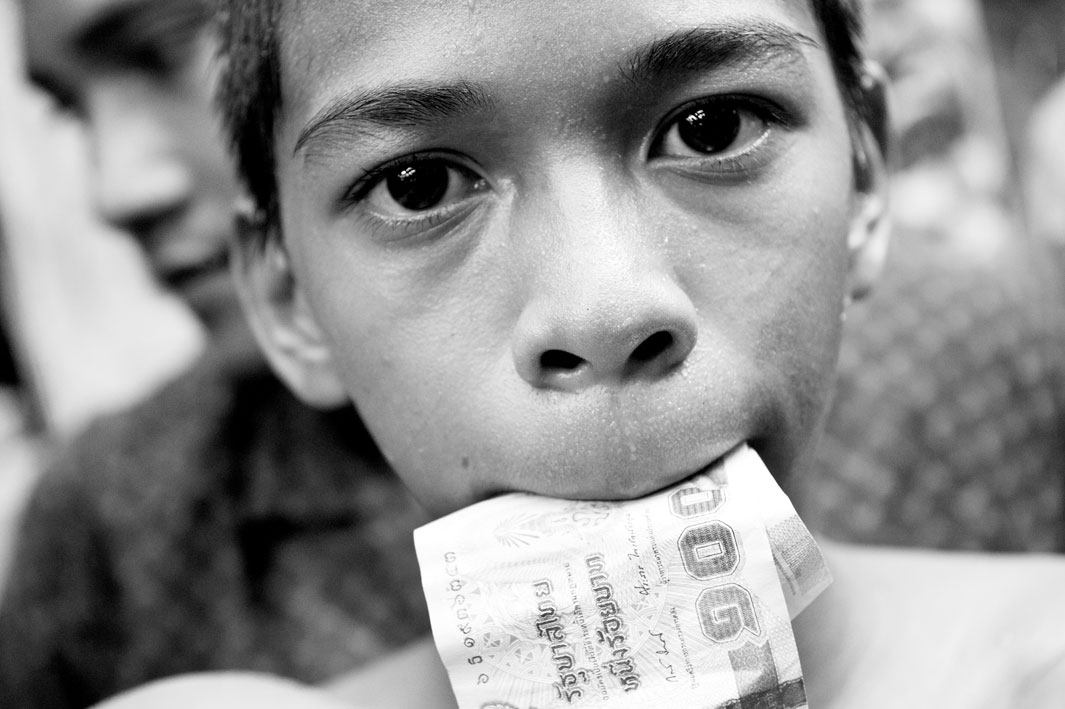 A child fighter with money in his mouth. The victor collects money from tourists and spectators after the match. The money is divided, and the coach gets the largest share.
Sandra Hoyn/laif
A girl, 6 years old, in the boxing ring.
Sandra Hoyn/laif
Spectators at a boxing match.
Sandra Hoyn/laif
Boys wait for the upcoming boxing match.
Sandra Hoyn/laif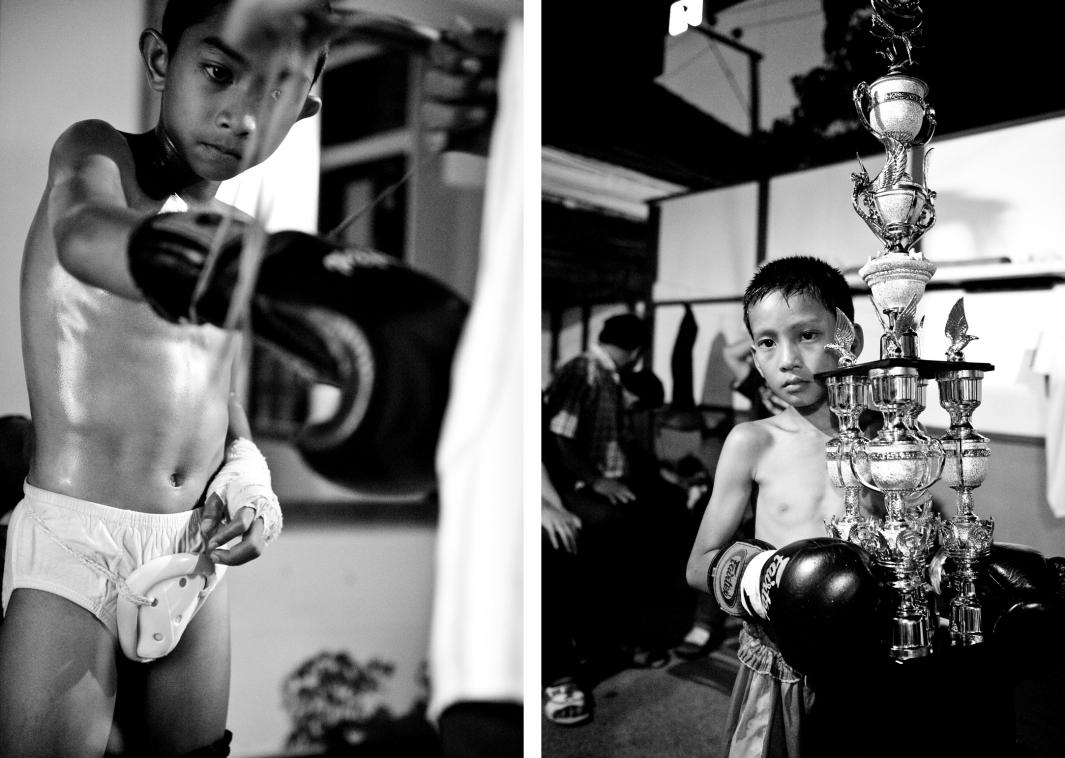 Left: The coach binds a boy into the boxing gloves. Right: Tountong with a trophy after he won the boxing match against Bank.
Sandra Hoyn/laif