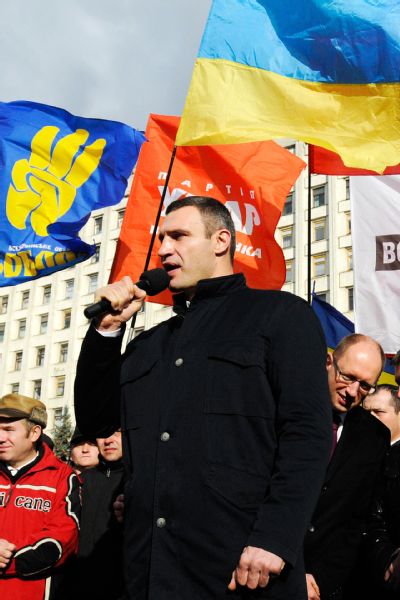 AP Photo/Sergei ChuzavkovVitali Klitschko helped form the Ukrainian Democratic Alliance for Reforms in 2010 in an effort to clean up government corruption.
V
itali Klitschko was elected to the parliament last fall and is planning a presidential run.
AFP/Getty Images
KIEV, Ukraine (AP) --
Vitali Klitschko, a heavyweight boxing champion and top Ukrainian opposition leader, says he will run for the ex-Soviet nation's presidency in 2015.

The 42-year-old was elected to parliament last fall as the head of his pro-Western party Udar ("Punch" in English).
Since then, Klitschko, the reigning WBC heavyweight champion, has campaigned against what he calls authoritarian moves by President Viktor Yanukovych.

Due to his reformist agenda and national celebrity status, Klitschko has become one of the country's most popular opposition leaders.



Read More:
* Wladimir is always at his side...
.............................................
Op-Ed Contributor
Ukraine's Next Great Hope?
By GORDON MARINO
Vitali Klitschko is already the king of heavyweight boxing. But can he lead his nation out of its political turmoil?