This was a truly great fight coming off the rip-off Mayweather vs Pacquiao waltz.
Canelo Alvarez
floors James Kirkland three times en route to TKO win
Kirkland (32-2, 28 KOs) was without longtime trainer Ann Wolfe
Alvarez improves to 45-1-1, 32 KOs and eyes Miguel Cotto showdown
Saul 'Canelo' Alvarez outslugged James Kirkland in an all-out war on Saturday in Houston. Photograph: Bob Levey/AP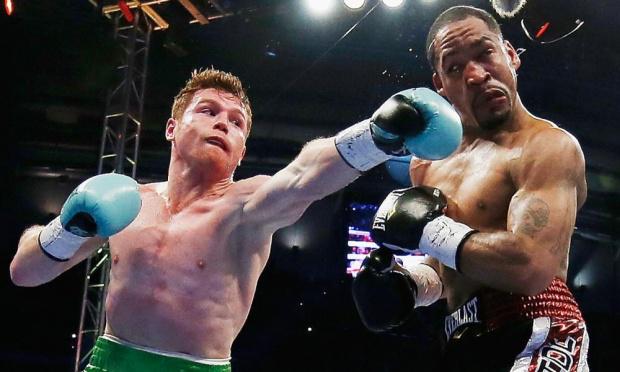 That's all for now, but tonight's outcome sets the stage for a vastly fascinating series of fights ahead. Should Miguel Cotto get through Daniel Geale on 6 June – not a sure thing – a Canelo-Cotto showdown essentially becomes the biggest fight that can be made today. Certainly a meeting between the winner and Gennady Golovkin is mouth-watering prospect as well. Big things ahead. And for once, they don't involve Floyd Mayweather or Manny Pacquiao.
Bryan Armen Graham
@bryanagraham
Sunday 10 May 2015
Signing off from Houston