Steroids would explain his muscularity and lack of stamina,,, do steroids cause depression? Some wrestlers and football players have damaged brains that is hypothesized to have caused depression and suicides... those sports see many incidents of steroid abuse so does that need to be eliminated as a factor in these brain studies conducted by

Steroids would explain his muscularity and lack of stamina,,, do steroids cause depression? Some wrestlers and football players have damaged brains that is hypothesized to have caused depression and suicides... those sports see many incidents of steroid abuse so does that need to be eliminated as a factor in these brain studies conducted by neurologists.

76 of 79 Deceased NFL Players Found to Have Brain Disease
September 30, 2014
As the NFL nears an end to its long-running legal battle over concussions, new data from the nation's largest brain bank focused on traumatic brain injury has found evidence of a degenerative brain disease in 76 of the 79 former players it's examined.
The findings represent a more than twofold increase in the number of cases of
chronic traumatic encephalopathy
, or CTE, that have been reported by the Department of Veterans Affairs' brain repository in Bedford, Mass.
League of Denial
, FRONTLINE's investigation into the NFL's concussion crisis airs tonight on many PBS stations. (
Check local listings.
)
Researchers there have now examined the brain tissue of 128 football players who, before their deaths, played the game professionally, semi-professionally, in college or in high school. Of that sample, 101 players, or just under 80 percent, tested positive for CTE.
To be sure, players represented in the data represent a skewed population. CTE can only be definitively identified posthumously, and many of the players who have donated their brains for research suspected that they may have had the disease while still alive. For example, former Chicago Bears star Dave Duerson committed suicide in 2011 by shooting himself in the chest, reportedly to preserve his brain for examination.
Nonetheless,
Dr. Ann McKee
, the director of the brain bank, believes the findings suggest a clear link between football and traumatic brain injury.
"Obviously this high percentage of living individuals is not suffering from CTE," said McKee, a neuropathologist who directs the brain bank as part of a collaboration between the VA and Boston University's CTE Center. But "playing football, and the higher the level you play football and the longer you play football, the higher your risk."
An NFL spokesman did not respond to several requests for comment.
CTE occurs when repetitive head trauma begins to produce abnormal proteins in the brain known as "tau." The tau proteins work to essentially form tangles around the brain's blood vessels, interrupting normal functioning and eventually killing nerve cells themselves. Patients with less advanced forms of the disease can suffer from mood disorders, such as depression and bouts of rage, while those with more severe cases can experience confusion, memory loss and advanced dementia.
Among the NFL legends found to have had CTE are Duerson, Hall of Fame Pittsburgh Steelers center
Mike Webster
and former San Diego Chargers legend Junior Seau. On Monday, ESPN's Outside the Lines
reported
that a New York neuropathologist had discovered signs of CTE in the brain of Jovan Belcher. In 2012, the former Kansas City Chiefs linebacker shot and killed his girlfriend before driving to a Chiefs practice facility, where he committed suicide in front of team officials.
The new data from the VA/BU repository — once the "preferred" brain bank of the NFL — comes as thousands of NFL retirees and their beneficiaries approach an Oct. 14 deadline to decide whether to opt out of a proposed settlement in the class-action concussion case brought against the league by more than 4,500 former players.
The research helps address what had been a key sticking point in negotiations — the issue of prevalence. Players in the lawsuit have accused the league of concealing a link between football and brain disease. While the settlement includes no admission of wrongdoing,
actuarial data filed in federal court
this month showed the NFL expects nearly a third of all retired players to develop a long-term cognitive problem, such as Alzheimer's disease or dementia, as a result of football.
Under the proposed settlement, the survivors of players found to have died with CTE can qualify for a payment as high as $4 million. But some, including
the family of Junior Seau
, have announced plans to opt out of the settlement. Like Duerson, Seau committed suicide in 2012 by shooting himself in the chest with a .357 Magnum revolver. His family has filed a wrongful death suit against the league, arguing in part that the deal does not include adequate compensation for the descendants of former players. An attorney for the family
told ESPN
this month that the family was not suing "for his pain and suffering. They're suing for their own."
Others have challenged the settlement's award structure for CTE specifically, claiming it only allows for such payments if a player was diagnosed with the disease before the day that the agreement won preliminary approval
in July
. This detail, they say, would shut out any player who may be diagnosed in the future.
Brad Karp, an outside counsel for the league, told FRONTLINE in an e-mail that "criticism of the settlement on this ground reflects a profound misunderstanding" of the proposed agreement. "The settlement provides very substantial monetary compensation for players who suffer from the significant neurocognitive symptoms alleged to be associated with CTE and who demonstrate, through diagnostic testing, that they have moderate or severe dementia."
It remains unclear just how many players will decide to either opt out of the settlement, or choose to file a formal objection. A key test will come in November when the judge in the case holds a Fairness Hearing to consider any such challenges. Final approval would not come until sometime soon thereafter.
Bruno dismisses drug stories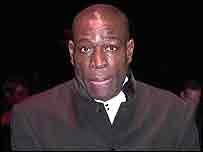 Bruno is hoping for a return to the ring
Former WBC heavyweight champion Frank Bruno has hit back at claims that he has turned to drugs in an effort to fight depression.
The 41-year-old has been in the headlines in recent weeks after checking into the Priory Clinic following his painful and costly divorce from his wife.
But Bruno has denied he has a problem and insists he is still capable of challenging for the world title again.
"It is very, very sad what people are saying about me," Bruno told BBC Radio Five Live's Sportsweek.
"If I go to the toilet, it's front-page news. I'm a prisoner in my own home.
"I went to the Priory because I couldn't understand how I could lose so much money through lawyers, through solicitors, through accountants and through people.
I worry about my health going outside my gates more than I do getting in the ring
Frank Bruno
"It is jealousy and power and money. They are trying to make me into the English Mike Tyson but I'm not the English Mike Tyson. I'm the English Frank Bruno I always was.
"Everybody has problems. I'm okay. I've been through a lot of pressure, a lot of stress, but I'm feeling stronger and stronger every day.
"I wouldn't go so far as to say I've been depressed. With the money I lost, I've been a little bit depressed."
Asked directly if he had taken steroids or cocaine, Bruno replied: "Not that I know of, no."
But Bruno did admit that he would relish a return to the ring. "I miss [boxing] very, very much," he said.
"I want to prove a lot of people wrong in doing the impossible of coming back at 41 and retaining the world heavyweight championship, and I don't think that's impossible to do.
"I'm not doing it for the money, I'm doing it for my own dignity."
And he said that he was fit enough to return despite fears that a detached retina would mean he would not be given a licence to fight.
"I don't have a detached retina. I've fixed my detached retina. I may have to have an operation but I don't think so," he said.
"I worry about my health going outside my gates more than I do getting in the ring."

Most Ex-NFL Players Found to Have Brain Damage
All but four of 91 former National Football League players who donated their brains for research were diagnosed with a disease linked to concussion and head trauma, according to the Concussion Legacy Foundation.
The foundation said on its website that the study, conducted by the United States Department of Veteran Affairs and Boston University, found that the players had chronic traumatic encephalopathy (CTE).
CTE is a degenerative brain disease that affects memory and judgment. Perhaps better known by the term "punch drunk", CTE is sometimes found in people with a history of head trauma and concussion.
The results of the study, which was first reported on Friday by the documentary TV program "Frontline," do not necessarily mean that nearly all former NFL players have CTE because it was not a random sampling.
Read Latest Breaking News from Newsmax.com
http://www.newsmax.com/Health/Health-News/football-brain-damage-cte/2015/09/19/id/692355/#ixzz3n3pf6t2l
Preview YouTube video Iron Mike Webster: Patient Zero in the NFL's "League of Denial" (Part 1 of 9) | FRONTLINE



Iron Mike Webster: Patient Zero in the NFL's "League of Denial" (Part 1 of 9) | FRONTLINE
Source:
http://www.pbs.org/wgbh/pages/frontline/sports/concussion-watch/76-of-79-deceased-nfl-players-found-to-have-brain-disease/