Blogger Assessment:
Saturday Night will see who is "all talk" and my guess ia\s Martinez will prevail by KO'ing Chavez who is a tall opponent tailor made for looping punches by Martinez...But Boxing is always full of surprises.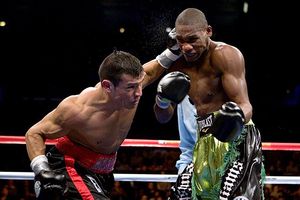 Marty Rosengarten for Ringsidephotos.com Sergio Martinez, coming off an all-time great knockout of Paul Williams in November 2011, was stripped of the WBC belt that is now in the possession of Saturday's opponent, Julio Cesar Chavez Jr.
Expert's View:
Trash-talking, KO-predicting lineal champ taking Saturday's fight personally
Originally Published:
September 13, 2012
By
Dan Rafael
| ESPN.com
"In 2010, Martinez outpointed Kelly Pavlik to win the lineal championship and two alphabet belts. The WBO quickly stripped him, but Martinez preferred the WBC belt anyway. He defended it against Paul Williams in November 2010, scoring a spectacular second-round knockout that was the consensus KO of the Year. But then the WBC stripped Martinez when he didn't face interim titlist Sebastian Zbik -- because HBO, which was bankrolling Martinez's career, refused to approve Zbik as an opponent.
Even after the WBC made Martinez the mandatory challenger for Chavez's belt, it took time for the fight to be made. The WBC refused to order the fight and Top Rank, Chavez's promoter, was in no hurry to make it, wanting Chavez to gain experience while Martinez grew older."
Sergio Martinez says Julio Cesar Chavez Jr. "will suffer a lot" in Saturday's fight - ESPN
Link:
http://espn.go.com/boxing/story/_/id/8373744/sergio-martinez-says-julio-cesar-chavez-jr-suffer-lot-saturday-fight